by Daniel Webster, dWeb.News Publisher
BOSTON, Oct. 09, 2021 (GLOBE NEWSWIRE) — The Consul General of Greece, Stratos Efthymiou, presented four golden olive branch wreaths tonight to the Boston Athletic Association during the Boston Marathon Opening Ceremony. The wreaths will crown the winners of Monday's 125th Boston Marathon.
We are honored to give these four olive wreaths from Greece, which were cut from the Marathon plains. These wreaths of gold connect Boston and Athens of America with Marathon's Greek roots as well as the ideals of fair playing, democracy and liberty," stated Efthymiou.
" The Alpha Omega Council (A.O.C. It is proud of its support and collaboration with The Greek Consulate General in the presentation of these wreaths. Costa Sideridis, President of A.O.C., a Greek American philanthropic nonprofit, stated that the goal of his organization was to promote Hellenism and preserve the Boston Marathon Wreath tradition.
For many years, the Boston Marathon champion's medals in gold have been a symbol for athletic excellence and triumph. Dr. Michael P. O'Leary is Chairman of the Board at the Boston Athletic Association. "We are grateful to the Alpha Omega Council and Consul General of Greece for carrying on this important tradition and keeping Marathon's roots alive. The crowning of our champions will be a very meaningful moment at the 125th Boston Marathon. "
Tell the World about Your Company with eReleases.com! All new customers get $130 Off the Newsmaker distribution. IGNORE our normal rates because they're being BLOWN AWAY for this special promotion!
On the stage during the wreath presentation, together with the Consul General of Greece, were the leaders of the B.A.A., and the Alpha Omega Council, and Tim Kilduff from the 26.2 Foundation.
The wreaths are offered in the name of Stylianos Kyriakides, the winner of the 1946 Boston Marathon, who was the first-ever charitable runner. Kyriakides returned to the U.S. after his victory and continued raising funds for the medical needs of his fellow countrymen in Greece. The B.A.A. was established to honor Kyriakides' legacy. The B.A.A. is featuring Kyriakides and other winners in banners that are displayed throughout Boston.
Press contacts:
Peter Lemonias
P: (617) 571-6315
E: peter.lemonias@gmail.com
Costa Sideridis
P: (617) 510-9335
E: costas@ferroceramic.com
Consulate General of Greece in Boston
P: (617) 523-0100
E: grgencon.bos@mfa.gr
Related Images
This content was issued through the press release distribution service at Newswire.com.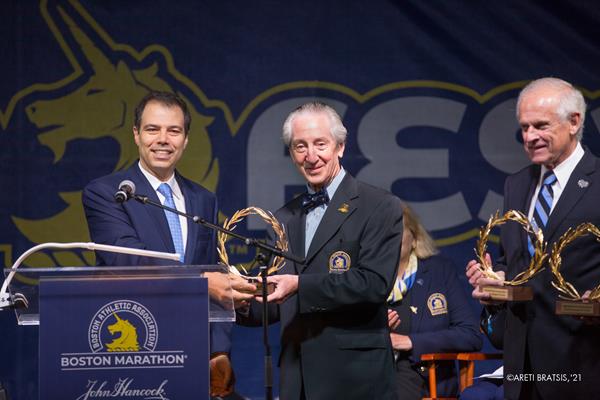 For more dWeb.News Business News: https://dweb.news/news-sections/business-news/
Related Posts
Popular Posts
ALISO VIEJO, Calif.–(BUSINESS WIRE)–BrainChip Holdings Ltd (ASX: BRN), (OTCQX: BRCHF), a leading provider of ultra-low power high performance artificial intelligence technology, today announced that Chief Development Officer Anil Mankar will present "Intelligent Edge AI: The Future is Now" at the Linley Fall Processor Conference 2021 in the Hyatt Regency Hotel in Santa Clara, California, October…