By Daniel Webster, dWeb.News Publisher
Dublin, Oct. 10, 2021 (GLOBE NEWSWIRE) — The Ravendex Labs is proud to announce the release of its decentralized exchange which private sale commenced on October 5, 2021. Prospective investors can view the platform's demo here. Initial Token Offering (ITO) is one of the best ways for new projects to raise funds in the decentralized marketplace for visions.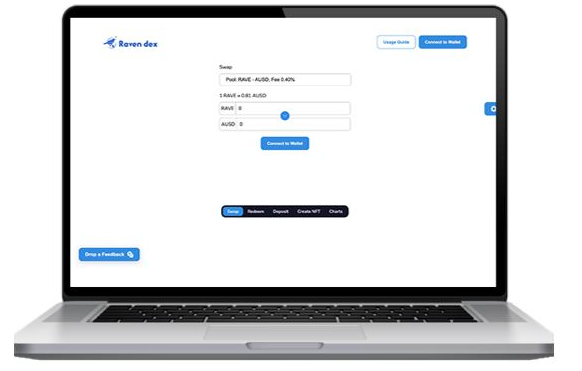 The Ravendex platform will be powered by its Cardano Native Utility Token $Rave, which has a total supply of 1,000,000,000 units. Token holders will be able to interact with Cardano's network and stake, endorse, or give liquidity to Cardano projects.
In the coming weeks, Ravendex will grow to become a fully autonomous community. Ravendex's team plans to expand the project to the point that community members can vote for and vote.
Tell the World about Your Company with eReleases.com! All new customers get $130 Off the Newsmaker distribution. IGNORE our normal rates because they're being BLOWN AWAY for this special promotion!
The Ravendex Token started on the 5th of October. This is the first phase and is open to early adopters. You can be a part of the private sale and get $RAVE at the cheapest price before listing on exchanges through this link.
After the private sale, there'll be a pre-sale that will take place in phases.
Here's the detailed guide on https://docs.ravendex.io/how-to-buy-rave-token
About Ravendex
RavenDex is a Cross Chain Dex Exchange / Swap Protocol On the Cardano Blockchain. It allows its users to trade native tokens, provide liquidity, and facilitates the establishment of a market for other users.
The Ravendex Platform when fully launched will not only House a Decentralized Exchange platform, will also include a Native Asset Lending Protocol, ERC20 to Cardano Converter and the new Innovative Peer To Pool, Pool to Peer Lending Protocol.
The HTLC protocol model, which Ravendex Dev Team has implemented for their Dex Platform, creates a trustless environment to allow the decentralized exchange and transfer of assets. The protocol ensures that the swap will occur if all participants are in agreement. If any participant decides not to end the process, they will all receive their funds back. The Ravendex Cross Chain Exchange & Swap Protocol offer investors increased liquidity and trade volume, as well as easing cross-chain transactions. This makes the platform attractive for both potential and current users.
Social Links:
Twitter: https://twitter.com/Ravendexlabs
Telegram: http://t.me/ravendexlabs
Github: https://github.com/Ravendexlabs
Media contact:
Company: Ravendex Labs
Contact Name: Raven
E-mail: hello@ravendex.io
Website: https://ravendex.io
For more dWeb.News Business News: https://dweb.news/news-sections/business-news/
Related Posts
Popular Posts
ALISO VIEJO, Calif.–(BUSINESS WIRE)–BrainChip Holdings Ltd (ASX: BRN), (OTCQX: BRCHF), a leading provider of ultra-low power high performance artificial intelligence technology, today announced that Chief Development Officer Anil Mankar will present "Intelligent Edge AI: The Future is Now" at the Linley Fall Processor Conference 2021 in the Hyatt Regency Hotel in Santa Clara, California, October…