by Daniel Webster, dWeb.News Publisher
ATLANTA, Oct. 14, 2021 (GLOBE NEWSWIRE) — The challenge of playing college football during a pandemic is requiring schools and fans to adjust the traditional game-day experience for activities inside and outside stadiums this fall. Football fans will need to be more imaginative than ever in order to enjoy their game-day experience. Ovie Mughelli was a fullback who was tough for over a decade. Ovie Mughelli was an ex-All-Pro player who was well-known for his ability to punish linebackers but also for his friendly personality and willingness to have fun with his teammates on and off the field. Ovie has some great ideas for making tailgates and game-watching parties more lively.
ADDING BIG FLAVORS to Game Day Feasts
Get big flavor with Angostura aromatic bitters. They are more than just a good tasting drink. Ovie uses them as a secret ingredient to flavor his favorite tailgating dishes, such as BBQ rib marinades and dips. Angostura bitters can be used to enhance the flavor of many popular tailgating dishes. Add a few drops to your burgers, or to the mac and cheese or ketchup you use at your next pre-game event. Angostura Cocoa bitters can be used in marinades to enhance the flavor of BBQ Ribs. For more information, visit angosturabitters.com
BEST TAILGATING TIP FOR BEVERAGES
The Ball Aluminum Cup is a game-changer for tailgating. The Cup is a sustainable way to allow fans to enjoy their favorite cold beverage and cheer on their team at the same time. They are made from infinitely recyclable aluminum, so whether enjoying an adult beverage, iced tea, soda or lemonade, the cup, just like a can, can be used, recycled and put back on a store shelf in just 60 days. For more information, visit www.ball.com/aluminumcups
FAVORITE GO-TO PRE-GAME MEAL
Whether hosting a squad of meat lovers, a team of vegans or something in between, Gardein has the perfect plant-based solution for all favorite game day recipes with the new Gardein Ultimate Plant-Based Chick'n. These tenders, nuggets, and fillets are just as delicious as real chicken and can be used in dozens of recipes, such the Ultimate Plant-Based Chik'n Biscuit Sandwich sliders or Chik'n Parm Bites. Gardein has two new plant-based varieties for chili lovers, which are available with or without beans. The Ultimate Black Bean, Chickpea and Falafel Burger are all great options for grilling. For more information, visit www.gardein.com
Tell the World about Your Company with eReleases.com! All new customers get $130 Off the Newsmaker distribution. IGNORE our normal rates because they're being BLOWN AWAY for this special promotion!
tipsontv@gmail.com
Related Images
This content was issued through the press release distribution service at Newswire.com.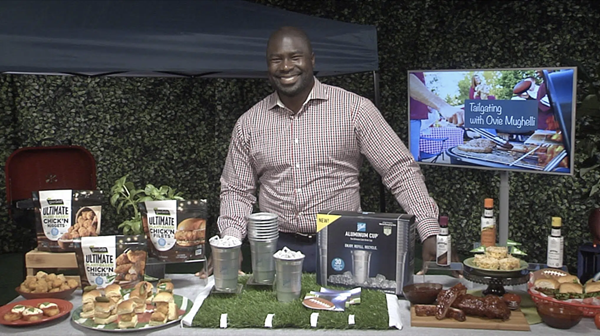 For more dWeb.News Business News: https://dweb.news/news-sections/business-news/
Related Posts
Popular Posts
ALISO VIEJO, Calif.–(BUSINESS WIRE)–BrainChip Holdings Ltd (ASX: BRN), (OTCQX: BRCHF), a leading provider of ultra-low power high performance artificial intelligence technology, today announced that Chief Development Officer Anil Mankar will present "Intelligent Edge AI: The Future is Now" at the Linley Fall Processor Conference 2021 in the Hyatt Regency Hotel in Santa Clara, California, October…